Shure SVX14/CVL Wireless Presenter System
Ada yang perlu ditanyakan langsung?
Hubungi Kami
PHONE/WA: 
081233331162 / 081991111983
Components
CVL Centraverse Lavalier Condenser Microphone
Centraverse clip-on lavalier condenser microphone for Shure wireless systems
The Centraverse Lavalier (CVL) offers convenience and performance in an easy-to-use clip-on cardioid condenser microphone that features simple, no-nonsense setup made for presenting professionals. Precision-engineered for years of use in any Shure wireless systems, its compact size is ideal for presenting situations where visibility is a major concern. The unidirectional (cardioid) pickup pattern rejects unwanted sound for superior source quality and vocal reproduction.
Features
    Miniature clip-on lavalier microphone for low visibility
    Permanently charged electret condenser element for clear vocal reproduction
    Unidirectional (cardioid) polar pattern rejects unwanted noise for improved sound quality
    Included tie clip allows for hands-free use, perfect for presenters
    Included windscreen reduces plosives, wind and breath sounds
    Tailored frequency response optimized for speaking and presentations
    TA4F (TQG) connector seamlessly integrates with Shure wireless bodypack systems
    Legendary Shure precision engineering for durability and performance
Tech Specs
    Transducer Type : Condenser
    Polar Pattern: Cardioid
    Frequency Response from: 50 Hz
    Frequency Response to: 20 KHz
    Sensitivity (dBV/Pa): -43.5 dBV/Pa
    Weight: 25 g
Further Technical Specs
    Output Impedance: 600 Ω
    @ 1 kHz
    Signal-To-Noise Ratio [1]: 72 dB
    @ 1 kHz
    Maximum SPL [1]: 139.0 dB
    1000 Ω load, @ 1% THD
    Dynamic Range [1]: 117.0 dB
    @ 1 kHz, 1000 Ω load
    Equivalent Output Noise [1]: 22 dB
    Typical, A-Weighted
    Power Requirements: +5 V DC (nominal), 10 V maximum (DC bias)
    Polarity: Positive pressure on diaphragm produces positive voltage on pin 3 with respect to pin 1
    Cable: 1.3 m (50 in.)
    Connector: TA4F

SVX1 Bodypack Transmitter
The SVX1 Bodypack Transmitter can be used with the SVX Lavalier or Headworn Wireless system.
Tech Specs :
    Transmitter Type: Bodypack
    Dimensions: 108 mm height X 64 mm width X 19 mm depth
    RF Output Power: 10
    Battery, endurance: 10 h
    Weight: 90 g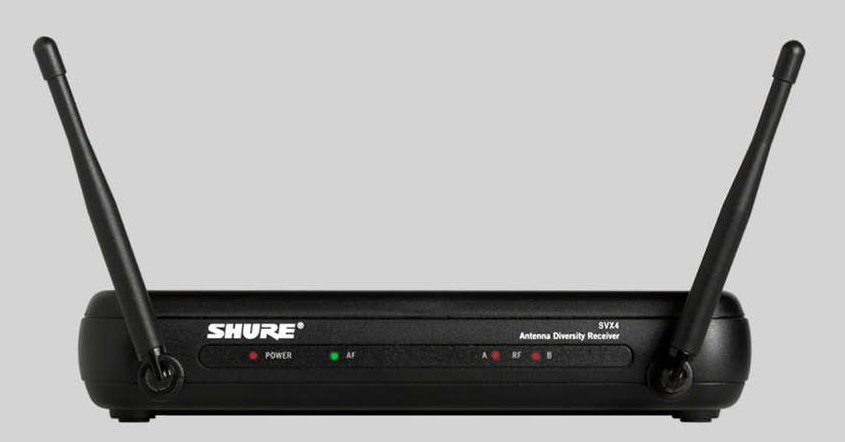 SVX4 Diversity Receiver
Single channel receiver for use with Shure SVX Wireless systems.
Features
    Up to 8 selectable channels
    Up to 4 compatible systems*
    Antenna Switching Diversity
    Adjustable Squelch Level
    Mic / Line Switch
    2 Audio Output:
        1/4" Connector
        XLR Connector
    Available with Handheld and Lavalier system packages
Tech Specs
    Power Supply: 12-18V
    Maximum Output Level: -19 dBV (XLR), -5 dBV (1/4") (ref. +/-33kHz deviation with 1 kHz tone) mW